This post may contain affiliate links. As an Amazon Associate I earn from qualifying purchases.
* * *
There's no excuse not to try traditional Nicaraguan food on your trip: meals are usually less than $5 and absolutely delicious! The country has a lot of variety in its cuisine, with each region having different specialties. From coconut and other flavors on the Caribbean coast to vigorón in Granada, there's plenty to sample.
Nicaraguan Food: 10 Traditional Dishes to Try
Add all of this Nicaragua food to your list of what to eat in Nicaragua.
Gallo Pinto (The National Dish of Nicaragua)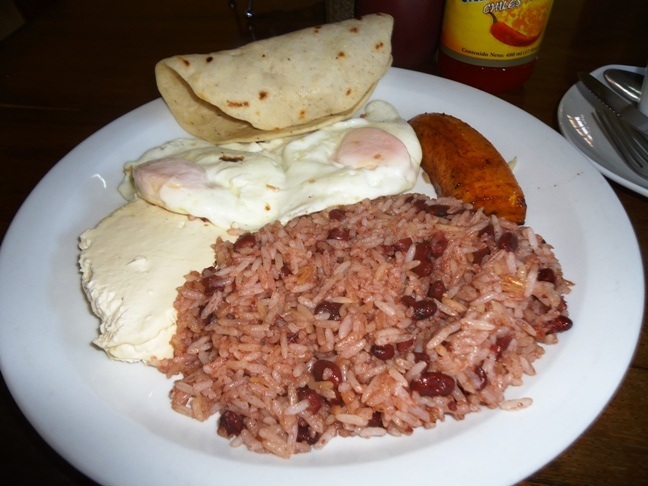 Rice and beans are a staple of almost all Central American diets and Nicaragua food is no exception. Gallo pinto, which translates to "speckled rooster", is the staple of most meals. The rice and red beans are each cooked separately and then fried together to combine into a tasty side dish. You'll find it at all three meals because it's hearty, delicious, and cheap. Each restaurant makes it a little bit different, though I consistently found it cooked a bit al dente for my tastes.
Tajadas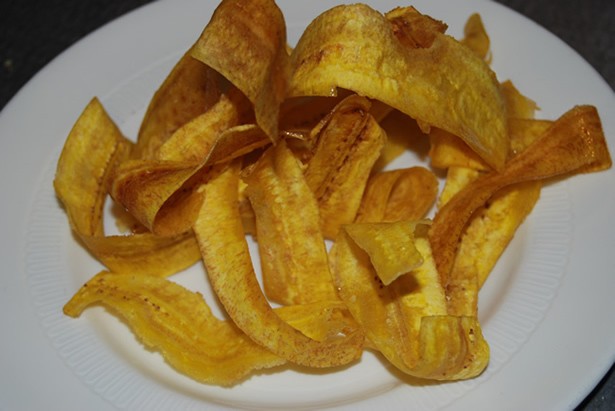 Plantains are another one of those foods that you'll find everywhere in Nicaragua. Here's a cheatsheet to the different kinds you'll see served up:
Tajadas (shown): Just like potato chips, except made from plantains. The combination of natural sweetness with a light coating of salt is delicious on a hot day. You'll find them packaged at grocery stores, gas stations or offered as street food.
Madurors (see the breakfast picture, above): Sweet, yellow plantains sauteed and caramelized. I can't get enough of these.
Tostones: Green plantains cut thickly and fried. These are popular in a lot of Central American countries and Nicaragua is no exception.
Do you love plantain chips as much as I do? You might be able to find them in Latino grocery stores at home, too! If not, order a case of Inka Chips on Amazon.
Vigarón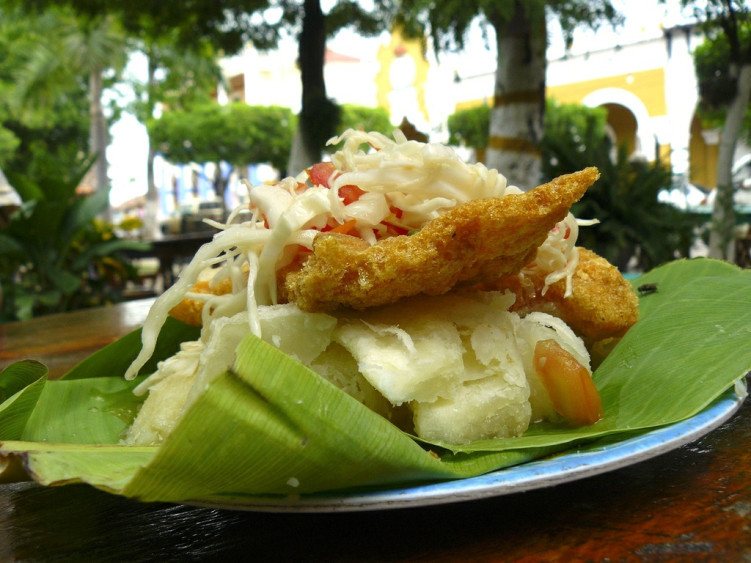 If you're not a vegetarian, you should really try vigarón. It's simple but downright delicious. The dish is served on a plate of boiled yucca (a tuber, sort of like potatoes), topped with chicharrón (crunchy fried pork skin), and topped with cabbage slaw. Sometimes all of this is placed on a banana leaf, sometimes it's simply plated. Either way, the meal is a great blend of starch, crunch, and fresh vegetable flavors. You'll find this specialty in Granada in particular.
Nacatamal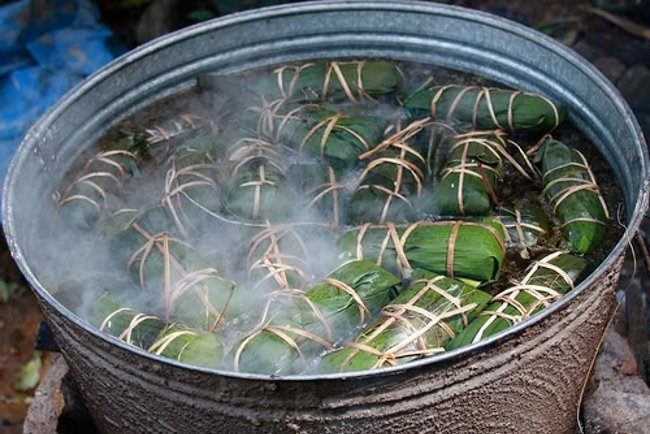 Have you ever had tamales? Nicaraguan tamales, or nacatamales, are a great variation. A plantain leaf is filled with masa (a cornmeal dough) and other fillings like meat, vegetables, rice, and achiote or other seasonings. Just unwrap the banana leaves and dig in! You'll be more likely to find them as street food than on restaurant menus, so plan on a casual lunch or mid-morning snack. Vegetarians take note: many contain lard even if it's otherwise meatless.
Heads up: market vendors sell nactamales ready-to-eat but also uncooked for locals to take home and steam fresh. Make sure you know what you're buying!
Quesillo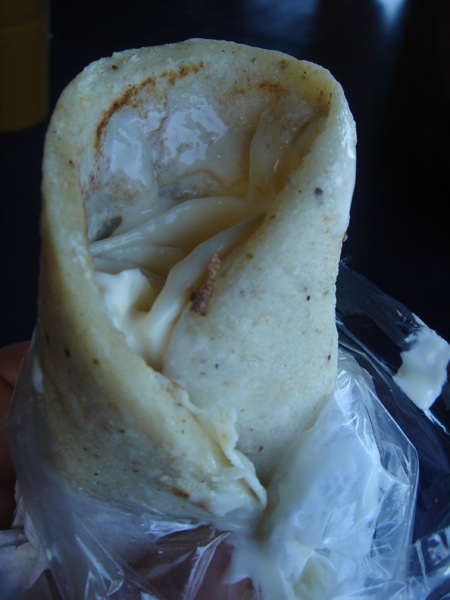 Confession: quesillo an acquired taste but nevertheless it's worth trying. Essentially, a quesillo is a fresh tortilla that's stuffed with local cheese and then topped with cream, pickled onions, and salt.
Eat like the locals: Your quesillo will be served in a clear plastic bag. Although you can eat it like a burrito through the opening, locals tie the bag off with a knot, then turn the bag upside down and bite a separate, smaller hole in the bottom corner. I have no idea why it's eaten that way, but watch the locals and give it a try.
Fresh Seafood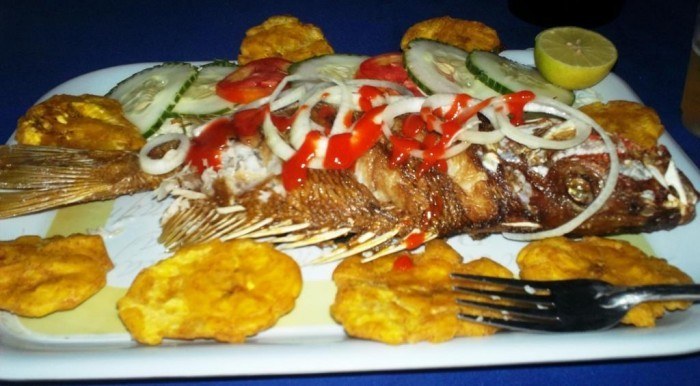 Nicaragua has a lot of coastline and I barely saw any of it, but while I was at the ocean, I did my best to eat as much seafood as possible. Concha negra is a popular local shellfish, but I actually stuck to the fish. I had some amazing mackerel in a coconut sauce at El Barca de Oro in Las Peñitas and a super-fresh snapper dinner at a fritanga down the road.
Most restaurants serve catch of the day rather than an always-available menu. Your flexibility will be rewarded!
Read More: Waves, Sunsets, and Turtles in Las Peñitas Nicaragua
Flor de Caña (Nicaraguan Rum)

I was far from impressed by Nicaraguan beer (Toña is most common, followed by Victoria), but the local rum, Flor de Caña, is really great and incredibly cheap. You can buy a bottle of aged rum at the grocery store for about $6 or get cocktails at any bar.
The most popular drinks? Straight rum (it's smoother than you think), mojitos, or nica libre (rum, coke, and a generous squeeze of lime). Also try the national drink: el macua is a blend of rum, guava juice, lemon, and sugar.
Indio Viejo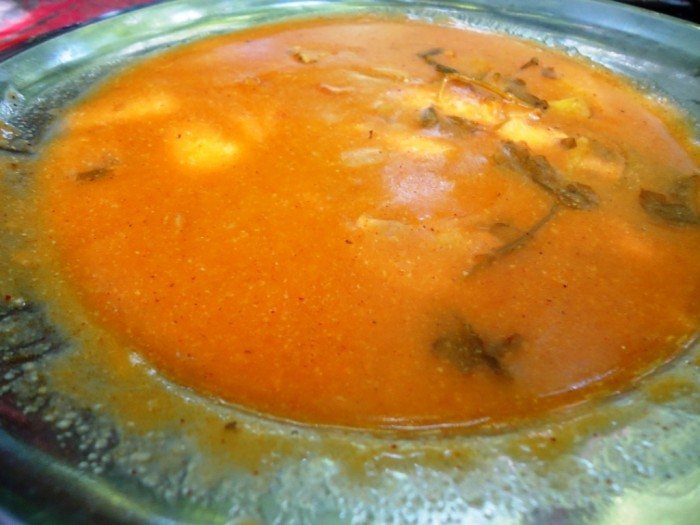 This authentic Nicaraguan dish sure doesn't look special, does it? Indio viejo, or the "Old Indian", is a centuries-old recipe made from a base of masa, or corn dough. It also has beef, onions, sweet pepper, tomatoes, garlic, achiote (a spice or flavoring), yerba buena (a Latin America mint), and the juice of a sour orange. It had a good flavor, but all that masa led to a very grainy texture. I probably won't be making it at home anytime soon.
Read More: Cooking Indio Viejo and Iguana Soup in Nicaragua
Pinolillo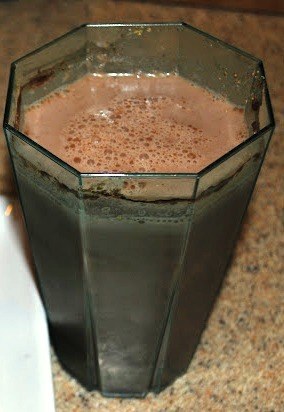 Nicaragua food is yummy, but their drinks are also worth mentioning. Pinolillo is made from ground, toasted corn and cacao powder mixed with either milk or water. It's usually sweetened and may also have a pinch of cinnamon or cloves mixed in. It's gritty from the cornmeal but is weirdly satisfying. It's a very popular drink, so look for it at the market and bring a bag of the powder mix back home to share with your friends.
This also seems like a decent time to mention the Nicaraguan habit of serving drinks in a bag. When you buy a drink on the street, on the bus, or at the market, you most likely won't get a cup or a bottle. Instead, they'll pour or ladle your drink into a plastic bag with a straw. They knot it up securely (NEVER untie the knot unless you want a big mess). It works better than you'd guess and you'll find everything from water to juices to chocolate milk to sodas in these bags.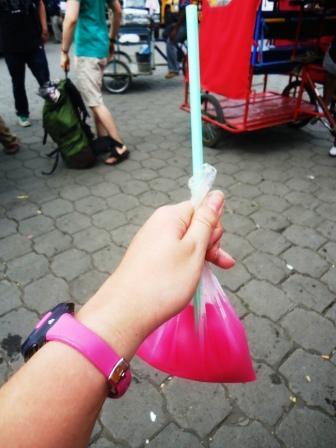 Batidos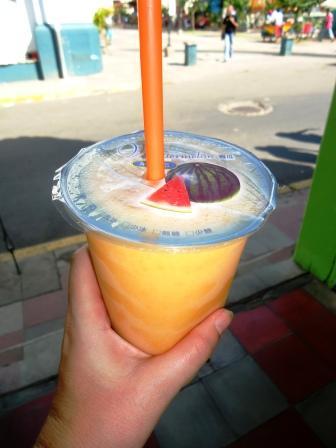 Is it a batido or a licuado? The terms seemed interchangeable, but smoothie shops in Leon are like coffee shops in the United States. They're incredibly popular and an affordable luxury. Each is made with fresh fruit, ice, and sometimes blended with milk, yogurt or even ice cream. Since the fruit is ultra-fresh, it'll be more delicious (and sweeter) than you're used to at home.
These foods and drinks should keep you busy for awhile during your visit, but if you've still got meals to fill, I'm sure you'll find plenty of other Nicaraguan cuisine to try.
More Info to Plan Your Trip