This post may contain affiliate links. As an Amazon Associate I earn from qualifying purchases.
* * *
Guatemala isn't known as being a beach destination, despite having a coastline on both the Atlantic and Pacific. There are no picture-perfect beaches, no award-winning resorts, and only the smallest assortment of things to do on the water. But these communities are a big contrast to what you'll find on the typical tourist route and can offer a quiet reprieve for long-term travelers or Spanish students.
Of the Atlantic and Pacific, the black sand beaches are the most visited, primarily due to proximity. From the tourist base of Antigua, you can reach Monterrico and El Paredón on the Pacific coast in a 2-2.5 hour shuttle (or not much longer from Guatemala City). This is much faster than heading to the white sand beaches on the Atlantic, which requires a combination of a bus and boat that takes 6+ hours from Flores and longer from Guatemala City or Antigua.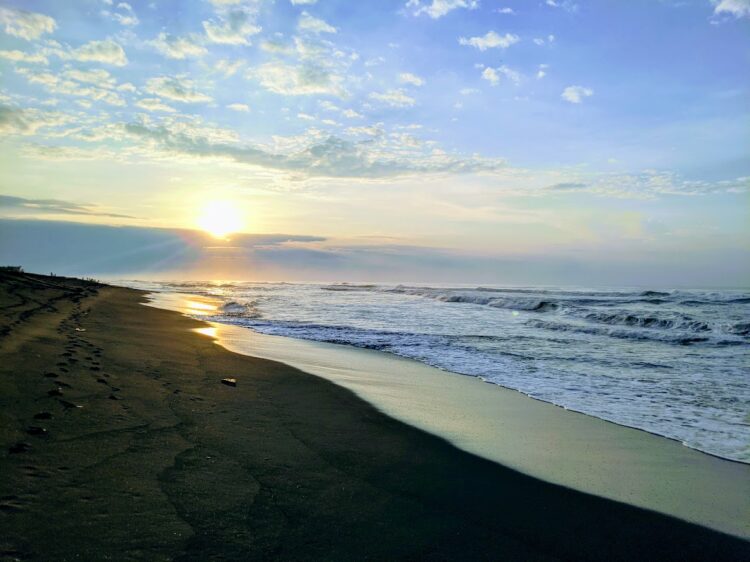 I've visited both Monterrico and El Paredon, the two Guatemalan black sand beaches most often visited by travelers. Visting both is definitely unnecessary: from a scenery and activity standpoint, both towns are more alike than different. The available activities are nearly identical and the beaches are quite similar, so keep it simple and just choose one. Which one you choose depends a bit on your preferences and budget, but I'll outline some of the biggest differences so you settle on the right decision for you.
What You Should Know About Monterrico and El Paredon
As I mentioned, both beach towns in Guatemala are more similar than different.
Both are small towns, which you can criss-cross in twenty minutes (though Monterrico's resorts span much further outside of town).
Both have black sand beaches, which are visually stunning but scorching hot midday. Take care with bare feet or lying on a towel.
Both beaches are self-catering. Chairs and umbrellas aren't available to rent and no one will deliver a bucket of beer to you on the sand. Bring what you need.
Both have strong currents and undertows so you should be a strong swimmer to go in the ocean. At times, the riptide can be downright violent. I had to get out of the water entirely in Monterrico, despite being a former varsity swimmer and open-water lifeguard — in some conditions, the ocean is no joke.
Both have strong sun (apply SPF frequently) and both have mosquitoes and no-see-ums that come out in the evening.
No, neither of these beaches are paradise. Make sure you go with the right mindset and expectations to have a good time.
Both of them have limited activities available: it's about relaxing, swimming, surfing, visiting the mangroves, and spotting sea turtles (in season).
Both are close enough to Antigua to visit as a day trip, but that's a real disservice. You'll miss when the beach and sand are most comfortable (before 10am or after 3pm), will miss the beautiful sunrise and sunset, and won't be able to look for nesting turtles at night or hatchling releases in the morning.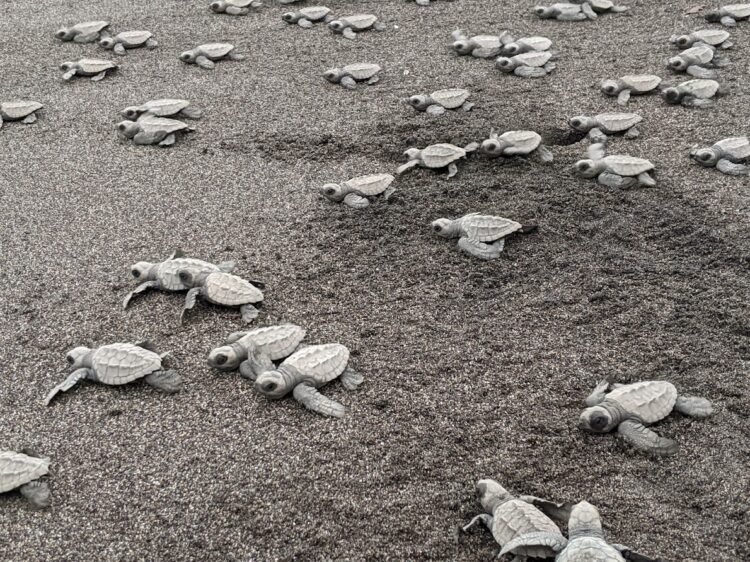 Monterrico, Guatemala
Distance from Antigua: 2.5 hour shuttle each way*; buses from Guatemala City are also available.
*Shuttles throughout all of Guatemala can take up to an hour longer than advertised, due to the time spent doing hotel pick-ups and drop-offs. It's really luck of the draw based on who else is on your shuttle.
Monterrico is the original Guatemalan beach destination: travelers have been heading that way for years and because of that it can get a little crowded. It's especially popular on weekends, when Guatamaltecos head to the beach for some downtime.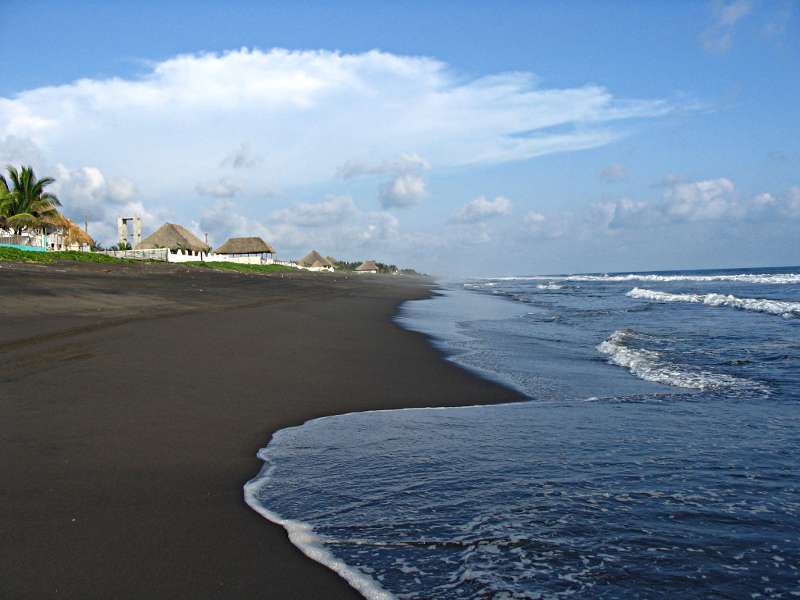 The first thing you'll notice when you arrive is the black sand beach, remnants of Guatemala's volcanic activity. The beach is clean and expansive, with hotels and restaurants lining the coast. Most of the restaurants here are typical Guatemalan — you can expect seafood entrees (of course!) in basic preparations like being grilled, fried, or sauteed in garlic sauce.
If you visit, be sure to visit the Hawaii-Monterrico Biotopo, where small boats take you to the local mangroves. Most tours head out very early in the morning in hopes of spotting birds and other wildlife. The other must-do is visit the Tortugario for a turtle hatchling release before sunset (roughly September through January).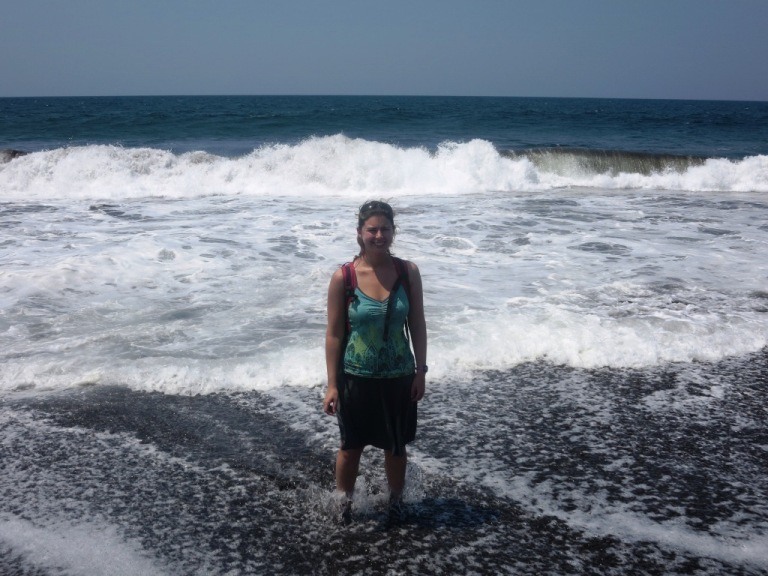 Because Monterrico is full of vacationers, tour groups can be on the larger side and you'll find a few pushy vendors. But on the bright side, since so many locals visit here, you'll get a Guatemalan experience at a Guatemalan price.
Where to Stay in Monterrico:
Budget – Hotel El Delfin – This hotel has both dorms and private rooms available so you can pick what works best for your budget. Be aware that only the deluxe private rooms have air conditioning but all guests have access to the pool and the beach is steps away.
Mid-Range – Hotel Atelie del Mar – You'll have lovely green space and three small pools to choose from at this hotel just across the street from the beach. Rooms are simple, but have private bathrooms and air conditioning.
Upscale – El Faro – This resort is located outside of town, though if the goal is relaxation it won't matter that you can't walk to town since tours will still pick you up (rent a moto [ATV] if you don't want to be trapped). The pools are gorgeous and the rooms are comfortable.
El Paredon, Guatemala
Distance from Antigua: 2 hour shuttle each way
Distance from Lake Atitlan: 3.5 hour shuttle each way
El Paredón Buena Vista is the new kid on the block for Guatemalan beach destinations. The beach is obviously not new, but the paved road is only a few years old, which spurred on tourism and other development.
Like in Monterrico, the black sand beach in El Paredon is the main attraction. It's especially popular with surfers and you'll find their laidback vibe throughout the whole village. Days are spent chasing waves, with English-speaking instructors available if you'd like to give it a go, or soaking up the sun.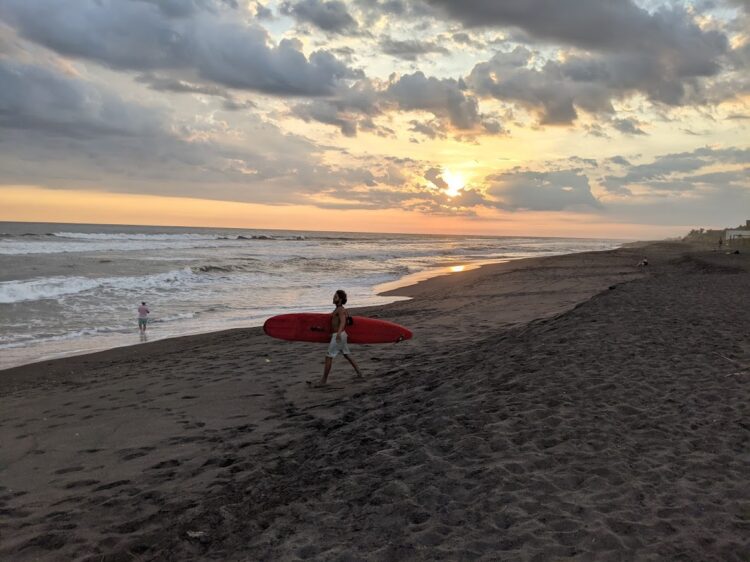 If you're not surfing, the most popular tours are variations of the same activities in Monterrico. You can attend turtle hatchling releases in the fall or kayak through the mangroves. There's also a small community-based tourism organization with a few other activities including cooking classes.
There are no large hotels here; travelers either stay in one of the hostels or at a boutique hotel. That means you'll find more individualized service but you can also expect smaller pools that feel crowded in peak hours. Since a large proportion of visitors are western tourists, amenities might be more in line with what you expect from home…but prices are higher, too.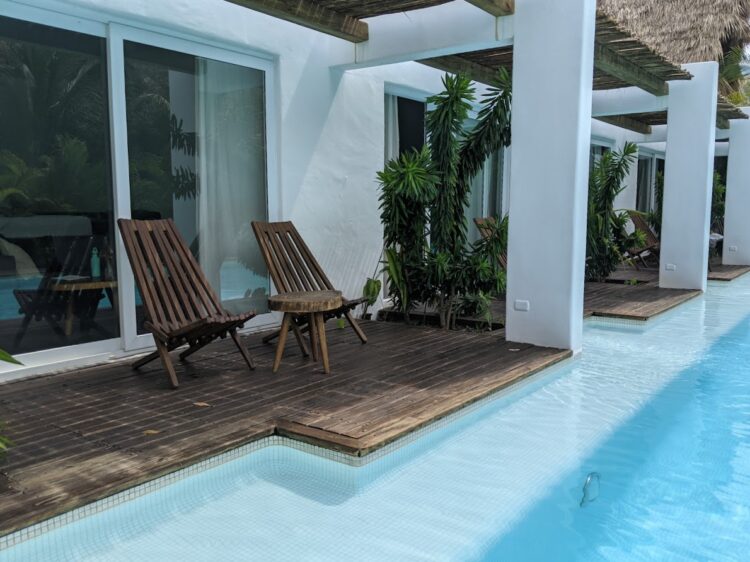 Where to Stay in El Paredon:
Budget – Driftwood Surfer Hostel – The Driftwood Surfer is popular with solo travelers due to the number of activities on offer, from pool parties to yoga classes to pub quizzes. Both dorms and private rooms are available (with a/c!).
Mid-Range – Swell Hotel – With five-star service and fabulous food, Swell is a great base for a couple of days. There's a small but stunning pool, though no beachfront access (it's about a 3 minute walk away).
Upscale – Kaana Surf – Offering spacious rooms (some with ocean views) and excellent service, Kaana Surf makes a great retreat. You can easily walk from the beach to the pool and tours can be organized with reception.
Should You Visit Monterrico or El Paredon?
Please, only visit either town if you understand what you're getting into. There are selling points to visiting this part of the country but you'll end up disappointed if you expect a stereotypical Caribbean beach experience. The Guatemalan black sand beaches are very different from that!
If your heart is set on a few beach days in Guatemala, I think most travelers will prefer El Paredon. English is more widely-spoken, making it easier to get around, and there are a few extra tours to choose from while you're there. Despite being a small village, there's also a lot of restaurant variety. You'll find typical Guatemalan restaurants as well as pizza, Mexican, curries and plenty of vegan options.
El Paredon is also a little easier to reach logistically because there are shuttles from Lake Atitlan in addition to Antigua, which means you can create a route without backtracking if you wish.
Regardless of which town you choose, you can see the highlights in a single overnight. Take a morning shuttle from Antigua, arriving by lunch and spend a few hours swimming, surfing or sunbathing before heading out for sunset on the beach. The next morning, explore the mangroves and enjoy a few more chill hours before returning on an afternoon shuttle. During turtle season, it's easy to add in a hatchling release at sunrise or sunset. Add extra nights solely if you want to repeat experiences or spend lazy days reading by the pool.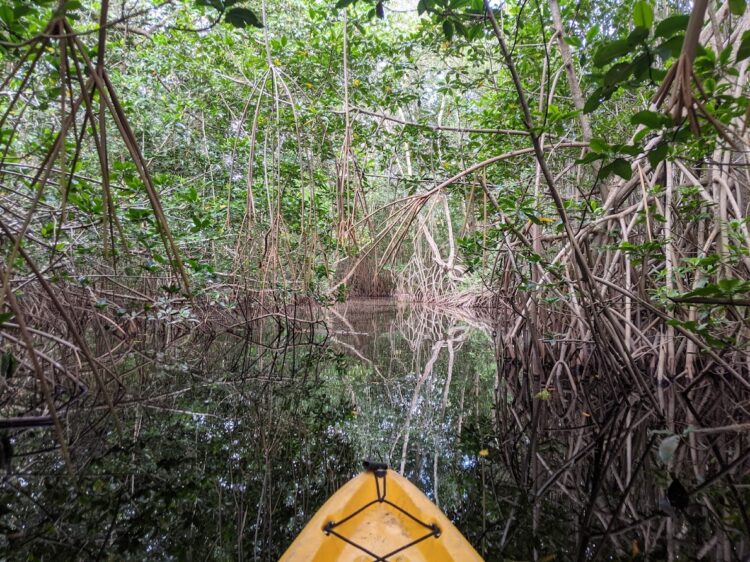 If your time in Guatemala is limited (especially if it's your first visit), I wouldn't mark either of these black sand beaches as a high priority. However, for returning visitors or an extended stay, both Monterrico and El Paredon are a marked contrast from the rest of the country.
* * *
Read More About Guatemala