This post may contain affiliate links. As an Amazon Associate I earn from qualifying purchases.
* * *
Right now, I think we could all use a little fun in our lives so I'm here to offer a distraction. For the rest of March, I'll be hosting the Bucket List Bracket — a game that encourages you to take five minutes a day to think about where you'll travel…someday.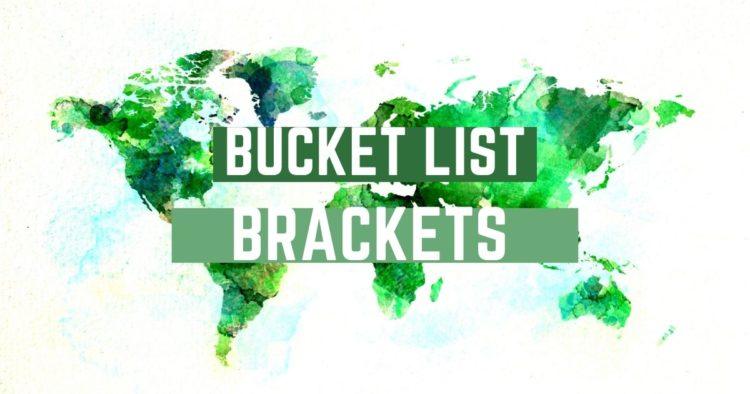 If you've ever filled out a bracket before, you're already familiar with the premise. I hadn't, because sports are totally not my thing, but it's pretty self-explanatory. You'll pick a winner for each set of options and then use those "winners" to fill in the next set of blank lines. So on and so forth until you've come to a winner in the middle. That is your personalized set of guesses.
Your methodology is entirely up to you: you can pick the place you like better, the place you think is more popular worldwide, the place you think more sightDOERs have visited, or maybe just flip a coin. Find a strategy and make your picks!
We'll determine the winners together as a group. Starting Tuesday, I'll post a quick survey every morning to represent each "game" (e.g. New York vs. California). Anyone who wants to — whether they submitted a bracket or not — can vote for which place they'd rather go to. I'll tally up the responses and post the winners the next morning so you can compare it to your own board.
We'll keep going through rounds of destinations until the final game on March 31. I'll share the final destination on April 1. Keep track of your own success along the way.
For simplicity's sake, I'm not going to use a points system. The winner will be declared by whoever guesses the final destination correctly. If there's a tie, we'll look at who got the most correct out of the final 4 (if that doesn't suffice, I'll check the final 8). The winner will get a $100 gift card to GetYourGuide so you can book some sightDOING for your next bucket list adventure once it's easy okay to travel again.
To Play:
Download and fill out your Bucket List Bracket.
Submit your completed bracket by 7:30am US Eastern Time Tuesday. It MUST be timestamped before the games begin!
***Submissions are now closed but voting is open!***
Come back daily, between 8am-8pm US Eastern Time to vote for destinations (I'll tally them up overnight to get the next day's games ready) and to follow along with your own progress.
If this isn't how sports brackets work, so be it. I don't do sports, I just do travel.
** There is no entry fee to play, but you DO need to submit your bracket on time if you want to be eligible to win. I'm not going to check everyone's bracket, but I will verify the winner. **
Games like this are more fun with more people, so get your family and friends to fill out brackets, too (and maybe use it as a conversational starter for where you'll travel together next year!).
So without further ado, here's the 2020 Just-for-Fun Bucket List Bracket!
Check back Tuesday 8am-8pm ET to vote for the winners of round 1 and come back Wednesday to find out the winners of round 1 (and to vote for round 2).
Voting is now open! Click here to vote in the Bucket List Bracket!
Let the Bucket List Bracket begin!