This post may contain affiliate links. As an Amazon Associate I earn from qualifying purchases.
* * *
I've never been much of a shopper — I'm a skeptic for every product, refusing to spend money on gear unless it's absolutely necessary. After all, $20 here or there adds up and could mean the difference between owning a bunch of things or having cash for an extra weekend getaway. So you ought to believe me when I admit I asked myself are packing cubes worth it.
It was six years ago when I asked myself that question. I ended up taking the plunge and ordering a variety of sizes and colors and today, I can't imagine packing without them.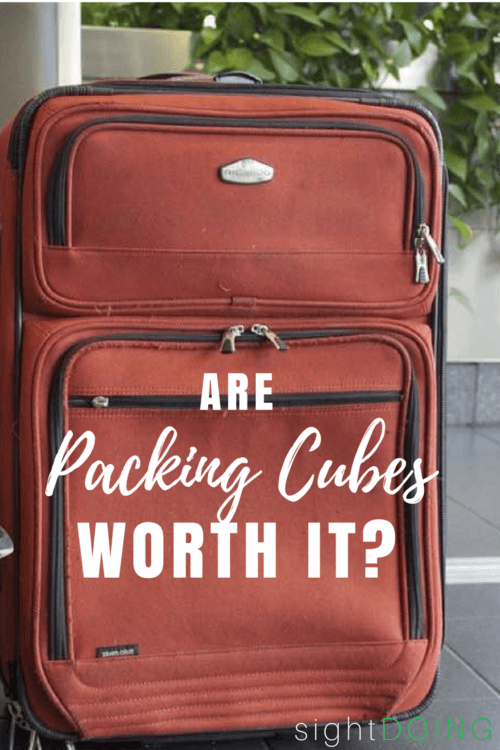 What Are Packing Cubes Used For?
Travelers who are always on the go need a way to organize your suitcase. I change hotels every night or two, which means a lot of packing and unpacking along the way. Packing cubes keep everything in their place when you don't have time to mess with hotel dressers or closets. Knowing where everything is can be a huge time-saver (and stress-saver) and there's no better way to keep track of your stuff than packing cubes.
Additionally, I love that packing cubes keep things discretely contained. I just had my bag flagged for extra security when flying into Mexico. As someone was rifling through my suitcase, I was happy that my individual underwear wasn't on public display since it was somewhat masked by the mesh of my travel packing cubes.
As an extra benefit, packing cubes somewhat compress your clothing so it's just a touch easier to pack carry-on only. They don't work as well as compression sacks, but they are easier to use and much cheaper. Even though I have a compression bag at home, I rarely use it.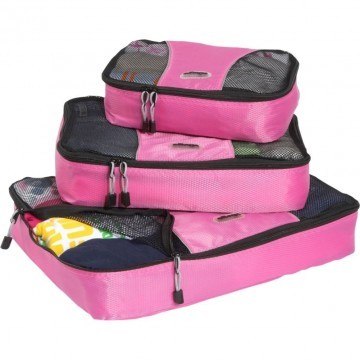 What Are the Best Packing Cubes to Buy?
My favorites are eBags packing cubes. I love the variety of colors and sizes to choose from, which means I always have the perfect bag for my items. In my opinion, medium cubes are the best for clothing, while small or slim packing cubes work best for most other categories. The large ones are practically useless at keeping things organized — they have so much storage space, you can't separate items.
Each packing cube has a double zipper pull, which remains easy to zip and unzip even when they're overstuffed. They also come with mesh tops so you can see in to find the cube you need quickly and great carrying handles so you can pull them out of a bag easily or carry them individually. eBags packing cubes are washable (mine have been through the wash dozens of times but look like new).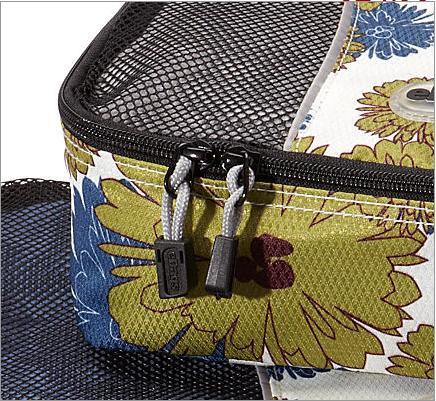 Eagle Creek Pack-It cubes are okay, but they're a bit stiff. That makes them a touch harder to pack or shape to the contents inside. My sister has Amazon packing cubes, which are a lower cost but also lower quality. They work okay for her and the amount of travel she does, but look like they'll fall apart if you travel often. I can't imagine the mesh and zippers will last as the ones on my eBags packing cubes. If you travel all the time, better to pay for better quality upfront.
Side Note: I have ONE eBags ultralight packing cube and I don't like it at all. The zippers are clumsy and I'm always worried that I'm going to rip the material. This is one case where it's better to stick with the original instead of the "upgrade".
How to Organize Your Suitcase With Packing Cubes
On trips where I'm moving around every night, I pack each days' clothing in a separate, small packing cube so everything else can remain untouched and organized until I need it.
If I'm sticking around somewhere a few days, I organize by type of item, such as all socks in a small cube and all shirts in a medium cube. Different colors help me find things quickly. No matter what, I organize my bag using packing cubes so I can pull out as little as possible each time I need something.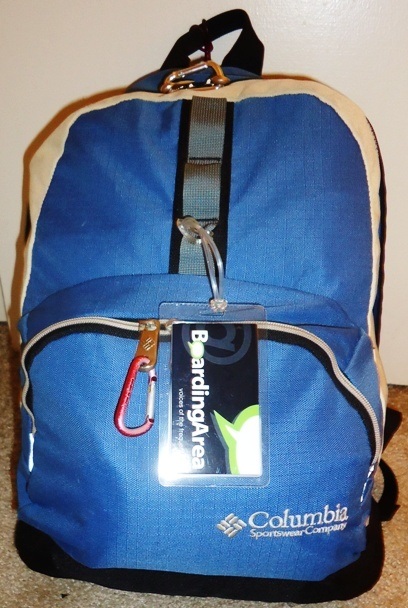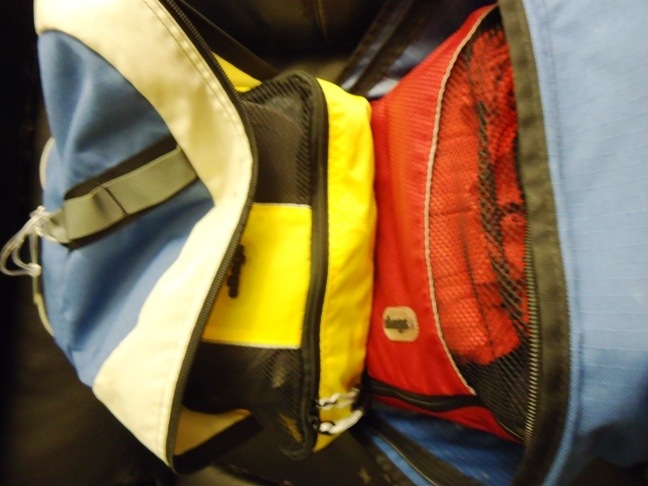 Best Packing Cubes for Carry On Travel: What Size Do You Need?
With all those sizes, it can be overwhelming choosing which to buy. In my opinion, the best option is a 4-piece assorted set, which comes with 1 each of the small, medium, small slim, and slim medium.
eBags offers packing cubes in six different sizes:

Regular Packing Cubes:

Small cube dimensions: 11″ x 6.75″ x 3″
Medium cube dimensions: 13.75″ x 9.75″ x 3″
Large cube dimensions: 17.5″ x 12.75″ x 3.25″

Slim Packing Cubes:

Small cube dimensions: 6.5″ x 5″ x 2.75″
Medium cube dimensions: 10″ x 5″ x 2.75″
Large cube dimensions: 14″ x 5″ x 2.75″
As a light packer, I find the slim cubes most useful to fit in backpacks, though the small regular cubes are also a great size. The regular medium cubes work great if you're thinking about packing a carry-on rolling suitcase. Four medium cubes fit perfectly, with some space leftover for small first aid kits or toiletry bags.
I'll be honest: I've only found one practical use for the large cubes since they take up nearly half my suitcase. I throw an empty large cube into my suitcase at the beginning of the trip and collect dirty laundry until it fills up, keeping the rest of my clothes perfectly separated.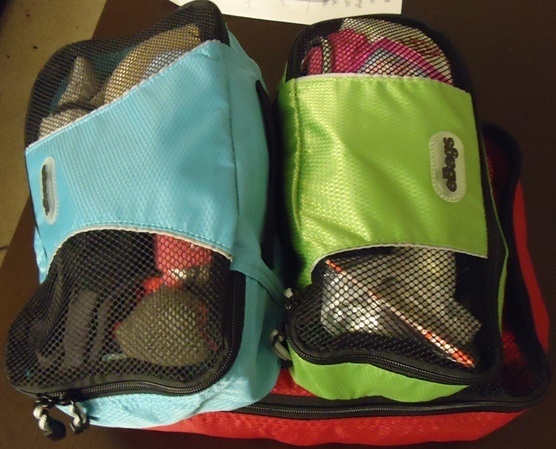 Packing Cubes vs Ziploc Bags
It's always tempting to use something you have rather than buying something new — I know. But Ziploc bags were never designed for packing and there's really no comparison (especially if you're a frequent traveler.)
Packing cubes:
are 3 dimensional, rather than having 2 flat seams like Ziplocs, which means you have more usable space
have durable zippers all the way around instead of one zipper at top, so you can get at things faster
are sturdy and won't rip partway through a trip
are ventilated so that a little sweat won't build up to funky odors as days go by
come in a block shape that helps you arrange them together in your suitcase
are made from fabric that won't slip if you stack cubes on a shelf
are built for years of use instead of being made from disposable plastic
Where to Buy Packing Cubes
I buy mine right from Amazon in order to get super fast, free shipping with Prime. They usually have the same price as buying from eBags but you'll save in the long run by not paying shipping separately. The best prices are typically for larger sets, which is actually perfect. On average, I use 4-6 packing cubes on every trip (depending on the length of the trip) and my husband needs a few of his own.
Shop Now: eBags 6-Piece Value Set ★sightDOING Pick★
* * *
So are packing cubes worth it? Weigh in with your opinion in the comments!
* * *
This post contains affiliate links, which support this site if you make a purchase. I've been using eBags for longer than I even knew affiliate partnerships existed — so rest assured, these are great travel products.