This post may contain affiliate links. As an Amazon Associate I earn from qualifying purchases.
* * *
We have a winner!
For the last week, you've been voting for the winning bucket list bracket destination. And today I'm here to announce that the winner is New Zealand!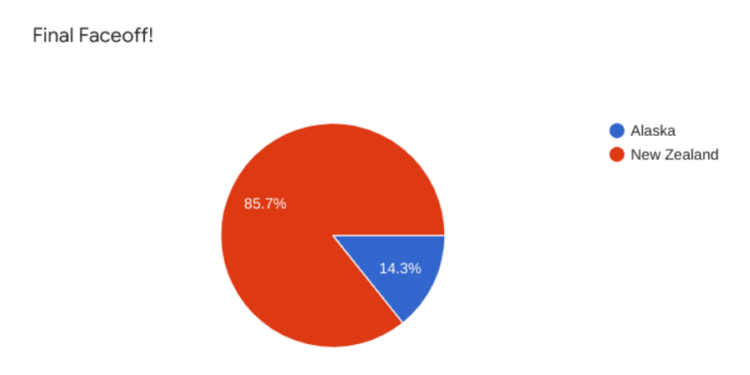 The path to this winner is not at all what I anticipated. There were some matches I never saw coming and some underdogs that turned out to be well-loved. That's what made this so much fun.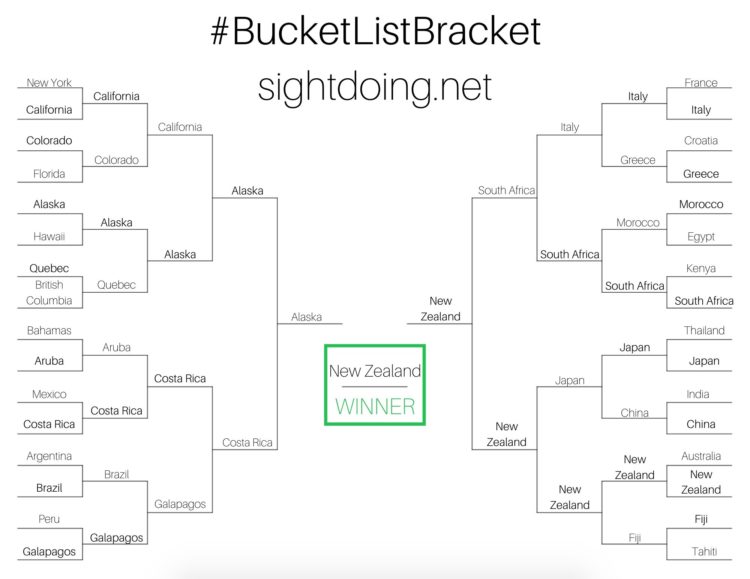 Your votes have made me want to re-visit Costa Rica to see what I missed and to visit Japan and South Africa for the first times (they were both on my list, but now I realize I should try harder to see both).
There were five people that submitted New Zealand as the winner of their bracket:
As per the rules,
The winner will be declared by whoever guesses the final destination correctly. If there's a tie, we'll look at who got the most correct out of the final 4 (if that doesn't suffice, I'll check the final 8).
I had to pull up the original submissions to check who had the most out of Alaska, Costa Rica, South Africa, and New Zealand in their top four destinations. This is where it got interesting, since again, I didn't necessarily predict this path to get here.
Notably, Tim had the final two teams correct but Janet and Roger also had two of the final destinations correct — per the rules that meant there was still a three-way tie. I suppose this is why sports brackets use a points system (live and learn).
Looking at the final 8:
Janet had 4 correct: California, Hawaii, Costa Rica, Peru, Italy, Morocco, Thailand and New Zealand
Roger had 4 correct: California, British Columbia, Costa Rica, Peru, Greece, Egypt, Japan, and New Zealand
Tim had 6 correct: Colorado, Alaska, Mexico, Galapagos, Italy, South Africa, Japan, and New Zealand
That makes Tim the winner! He'll get a $100 gift card to GetYourGuide.
UPDATE: Tim has generously opted to donate his $100 prize to Feeding America's COVID-19 fund.
To everyone else, thanks for playing along and hope to see you at the next game!